Progressive Surf Coaching: Video Analysis
Take your surfing to another level
Are you stuck in a rut with your surfing? Want to perfect your bottom turn, off the top, cut back, or just learn to create more speed, catch more waves?  Now is your chance. Our New Progressive Surf Coaching programs will enable you to work with our coaches to improve your existing surf skills. Whether you just want to catch more waves, or learn a maneuver we have the coaching for you. See yourself on Video Surfing and best of all have your surfing analyzed by professionals.
Progressive Surf Coaching was created with the Intermediate/Advanced Surfer in mind. Those who have the basic surfing skills but are looking to still improve. This program was created by the demand of some of our former beginner students who are now catching their own waves and doing basic turns. They came to us asking how to do a cut back, off the lip, or an air, etc. So we created a unique coaching method using both a  surf  coach in the water and a Video Coach on the beach.
Video Coaching:
Video analysis is a valuable tool used in most all sports these days. So why not surfing? We have invested in some amazing Video Analysis Software which enables us to break down your waves and show you the proper technique to improve your surfing.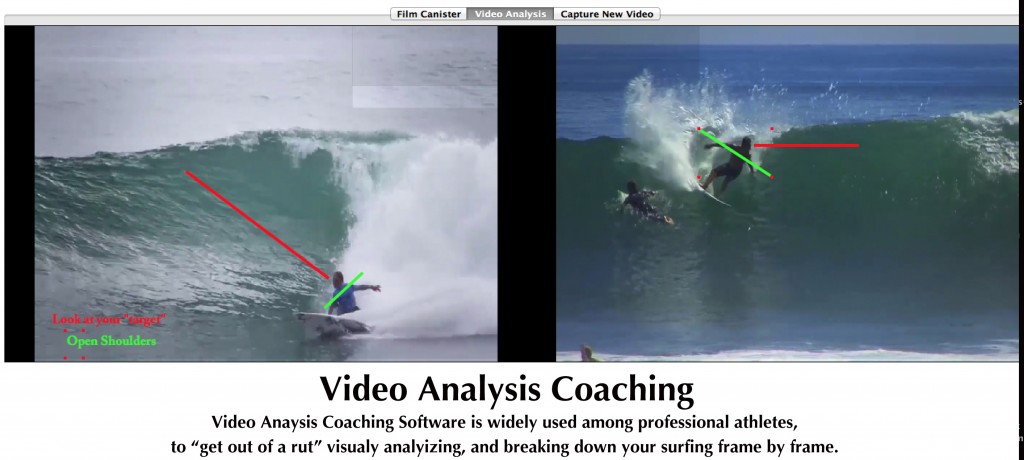 "I've been using video coaching for much of my surfing career. However, in the past year trying to keep up with the younger students at camp, I decided to use our new video coaching software to learn some new progressive maneuvers. By use of the side by side comparison software I am now able to successfully land Airs like the teenagers. Who says you can't teach and old dog new tricks" – Jason Senn, founder of Progressive Surf Coaching
Video Analysis is not just for professionals. Our coach in the water can tell you a thousand times that your feet are too close together, or that your looking down at your feet when you surf, but it is not until you see it in a video comparison that it sets in. Video is one of the most powerful tools in improving your surfing no matter what level you are at. Our coaches will work on everything from your paddling to proper technique and body movements to further enhance your surfing skills.
Group Video Coaching and Review is offered during all of our summer surf camp sessions of PSC. Full Individual Video Analysis with our surf analyzing software is offered during these summer camps for an additional fee. And can also be scheduled any time of the year. Contact us for rates.
Topics Covered
Progressive Surf Coaching emphasizes advancing your current surfing skills. Our coaches are all former Professional Surfers with years of competitive surfing experience.

Duck Diving
Wave Selection
Developing Speed on Waves
Advanced Turning Techniques
Paddling Techniques

Equipment Selection
(proper surfboards for your level)
Surf Etiquette
Ocean Awareness
Selecting the proper break
Correct Body Movements
When, Where, How?
Progressive Surf Coaching will be offered year round at our San Onofre Location. San Onofre Summer Camp Dates offer coaching and video review for the group as a whole. Individual Video Analysis and Review along with Personally edited footage from your stay with us can be put together for an additional cost. Contact us for details. San Onofre Summer Camp Dates are posted below.
| SESSION/DATES | OVERNIGHT CAMP | RATES |
| --- | --- | --- |
| 01/ June 04 – 08* | OPEN | $995 |
| 02/ June 11 – 15 | OPEN | $995 |
| 03/ June 18 – 22 | OPEN | $995 |
| 04/ June 25 – 29 | OPEN | $995 |
| 05/ July 02 – 06 | OPEN | $1095 |
| 06/ July 09 – 13 | OPEN | $1095 |
| 07/ July 16 – 20 | OPEN | $1095 |
| 08/ July 23 – 27 | OPEN | $1095 |
| 09/ July 30 – Aug 03 | OPEN | $1095 |
| 10/ August 06 – 10 | OPEN | $1095 |
| 11/ August 13 – 17 | OPEN | $1095 |
| 12/ August 20 – 24 | OPEN | $1095 |
| 13/ August 27 – 31 | OPEN | $995 |
| 14/ September 03 – 07* | OPEN | $995 |
| 15/ September 10 – 14* | OPEN | $995 |
*Sessions 1, 14 and 15 are scheduled as adult only 5 day camps (18 years and over)
Contact us to book or inquire : E-Mail Us Today!
Costa Rica Progressive Surf Coaching Trips:
Costa Rica is one of the most consistent regions for surf in the world. ISA Certified Surf Coach, Jason Senn, has spent the last 20 years surfing all over  Costa Rica and he found the perfect area that offers some of the best conditions for Intermediate Surfers to improve their  surfing. Santa Teresa, located on the tip of the Nicoya Penninsula offers a consistent variety of waves, warm weather, and a friendly environment to practice your surfing.  Contact us If you have a group and we can put together a custom surf coaching trip Package.
| 2018 COSTA RICA DATES | SINGLE  $1995 | SHARED $1650 |
| --- | --- | --- |
| 01/ February   | OPEN | OPEN |
| 02/March  | OPEN | OPEN |
| 03/ July (teen weeks)  | OPEN | OPEN |
| 04/ November  | OPEN | OPEN |
| 05/ December  | OPEN | OPEN |
* All Costa Rica Session dates are being booked per demand. We need a minimum of 3 surfers for a session to run. These are customized packages to meet your needs and work with your dates. Contact us for more information. We are experts in this region of Costa Rica  and we aim to find the best waves and customize the best program to ensure you have a great trip. Programs can be customized for each individual group. For instance if you want to add Spanish Classes or explore the area a bit we can do that.
 Progressive Surf Coaching Costa Rica Trips:
Takes place in Santa Teresa, Costa Rica. Located on the tip of the Nicoya Penninsula this area offers a variety of great waves to improve your surfing. We will only be working with small groups of surfers and our focus will be on catching as many waves as possible to maximize your improvement. Program includes Accommodations, Daily Breakfast, 3 dinners (leaving a few nights free to test some of the local cuisine),  morning coaching sessions each day with video analysis, Video review, afternoon free surf session with your coach, local airport transfers, surf equipment available if needed but we suggest you bring your own board to practice on. Summer 2017 July dates will be for teenage surfers and will incorporate a surf cultural experience along with community service.
E-Mail Us for travel details and more information about our Costa Rica Coaching Trips. 
San Onofre
Progressive Surf Coaching will be offered at our San Onofre Area Locations Year Round. October – May Private Coaching Sessions can be scheduled by Contacting Us Here.  Summer Dates will run along side our normal surf camps from June – September(below). Contact us today for pricing and scheduling a private coaching session or information about one of our summer group sessions.
San Onofre is the ideal area to work on your surfing. Our main beach break at Trail 4 has a sand bottom and offers a variety of fun uncrowded waves up and down the beach. We also have access to various points and beaches within the area if you wish to test your skills. However, with the light crowd factor at our main break this enables us to maximize our wave count so we can focus on improving our surfing skills instead of fighting for waves with crowds. Contact us today for pricing and availability.