THE CAMP
THE ENDLESS SUMMER SURF PROGRAM
When you join us for a surf camp session we provide you with a quality surfing instruction program including all your lodging, meals, surfing equipment and expert surf coaching including video analysis.
Lodging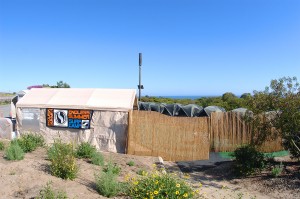 The Endless Summer Surf Camp has a deluxe campsite overlooking the Pacific Ocean in the San Onofre State Park Campground. San Onofre is a modern State Park complete with showers, bathrooms, public telephones, and Ranger and Lifeguard patrols.
Our campsite lodging consist of carpeted tents (guys & girls separate), fire rings, and game area including ping pong. There is also a television and video viewing lounge complete with sofas where we will have nighttime entertainment complete with surf movies, feature movies and video analysis of the day's surf sessions. View Campsite Image Gallery here
Meals
Our full-time cook will provide you with the proper diet that will give you the strength to catch that last perfect wave of the day. Three meals a day are provided along with snacks and drinks throughout the day. A hearty breakfast is served every morning at the camp with a midday lunch served at the beach consisting of sandwiches, summer fruits and other snacks.
Examples of a few of our dinners served are theme nights such as…
Italian pasta night, Taco Tuesday with Mexican burritos and tacos, and the infamous Hawaiian BBQ night complete with teriyaki chicken, rice, veggies and more. A vegetarian alternative is also available at every meal.
Equipment

Top of the line surfboards and wetsuits will be provided for all participants. We provide a variety of longboards and short boards to meet your needs. We have everything from soft surfboards for the safety conscious beginners to high performance longboards and short boards.
Surf Instruction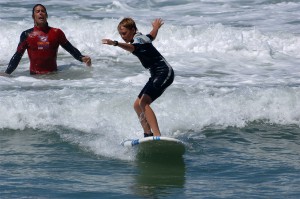 Whether you have never surfed before or if you just want to improve your skills, we have the coaching that will enable you to reach your goals. Our instructors will work with you in small groups (3-1 student to instructor ratio for beginners) which provides students with more individual attention. Emphasis is on ocean awareness, surfing techniques, surf etiquette, and proper equipment and wave selection. Our instructors specialize in all levels of surf instruction so whether you want to catch your first wave or take your surfing to the next level they can help you reach your goals.