OVERNIGHT SURF CAMPS
OVERNIGHT SURF CAMP SESSION
All Overnight surf camp packages start Monday morning at 8am and finish Friday at 4pm The overnight camp includes accommodations, all meals, drinks and snacks, 24 hour supervision, and all your surfing equipment as well as surf instruction. Overnight surf camps are 5 days in length.
Campers travelling long distances can arrive the Sunday evening prior to their surf camp session and depart the Saturday morning following the end of their session. Surf Campers are welcome to attend more than one session and stay for mulitiple weeks. For multiple week stay there is a $150 weekend stay over fee.
Every Friday students are invited to compete and win prizes in our "just for fun" surf contest. At our awards presentation everyone will receive goodies from our sponsors. And our Ocean Hero Award will be given away.
Overnight Camp Dates Summer 2023
SESSION/DATES |  CAMP | RATES
01/ May 29 – June 02* | OPEN | $1,395 (Adult Camp)
02/ June 05 – 09 | OPEN | $1,495
03/ June 12 – 16 |SOLD OUT| $1,495
04/ June 19 – 23| SOLD OUT | $1,495
05/ June 26 – 30| SOLD OUT | $1,495
06/ July 03 – 07 | SOLD OUT| $1,495
07/ July 10 – 14 | SOLD OUT| $1,495
08/ July 17 – 21 | 3 Spots Open| $1,495
09/ July 24 – 28 | SOLD OUT | $1,495
10/ July 31 – Aug 04 |SOLD OUT | $1,495
11/ August 07 – 11 |OPEN | $1,495
12/ August 14 – 18 | OPEN | $1,495
13/ August 21 – 25 | OPEN | $1,395
14/ August 28 – Sept 1 | OPEN | $1,495 (Adult Camp)
15/ September 04 – 08* | OPEN | $1,495 (Adult Camp)
*Sessions 1, 14 and 15 are scheduled as Adult Camps (18 years and over). **More information on Adult weeks available here.
**When sessions are posted sold out we will have a waitlist. Feel free to get on the waitlist as spots many times open up.
Topics Covered Thru The Week

Paddling the board
Catching waves
Standing up on the board
Wave selection
The basics of surfing

Surf etiquette
Ocean awareness
Surf safety
Turning techniques
Each week we will tour local Surf Shop's and receive discounts. Every Friday students are invited to compete and win prizes in our "just for fun" surf contest.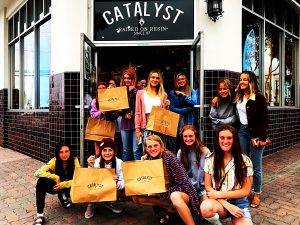 When Not Surfing Enjoy Other Activities…
Surf Shop Tour / San Clemente City Tour
Skateboarding
Ping Pong
Board Games
Surfboard Ding Repair Demonstrations
At the end of the day hang out and relax in our Low Tide Lounge
Enjoy Movies and music
Watch and review video tape of the days surfing sessions or watch a feature film
Or just relax, enjoy music and read on our couches and lounge chairs
Additional Information
Campers Traveling long distances (such as flying in) can arrive the Sunday Evening prior to the start of their camp date and they may depart either Friday afternoon or Saturday before 12 noon. The minimum stay at surf camp is 5 days and maximum stay is 15 weeks.
Multiple sessions may be attended by coming consecutive weeks. For students staying multiple session's weekend stay is fully supervised and there will be some out of camp activities which they will need some extra spending money for. Weekend Supervision fee is $150. Students staying weekends will need extra spending money for outside of surf camp weekend activities.