ADULT SURF CAMPS
Why let the kids have all the fun? The all age camps are fun, but the adult only surf camps are fun on a whole other level. Learn to surf with in good company, with other students your age and ability level.
So what if you have never tried to surf before and always dreamed of surfing? A majority of our adult students are surfing for the first time, or have maybe surfed years ago and want to get back into it. Some of our students just want the coaching to get to the next level. We offer all levels of instruction and coaching. There is no better time or place to start than this summer with us.
Adult Overnight Surf Camp – San Onofre
5 day overnight surf camp session runs Monday through Friday. All 5 day surf camp packages start Monday morning at 8 a.m. and finish Friday at 4 p.m. The overnight camp includes accommodations, all meals, drinks (non alcoholic) and snacks, and all your surfing equipment as well as surf instruction. Overnight surf camps are 5 days in length. However, you can arrive the Sunday prior and Depart on the Saturday after camp ends.

Adult Day Surf Camp
Day only surf camp runs 5 days. Monday – Friday from 8am to 3pm. We provide all surfing equipment, expert surf instruction, as well as lunch, snacks and drinks throughout the day. These camps are perfect for those who live local or those who prefer not to camp and stay at a local area hotel, or with family. Whether you have never surfed before or if you just want to take your skills to the next level we have the instruction for you.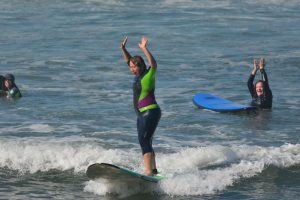 Our Adult Only Surf Camps are very popular. Last year all our adult only sessions sold out. That's right lots of "big kids" taking up surfing these days. It's like a surf trip/camping trip with friends. Sharing good waves and good times by the campfire at night. Want to talk to others who have come? Check us out on Facebook.
These weeks don't fit your schedule? Adults are welcome to attend any of our all age day surf camp sessions from June – September. Aloha!
2023 Adult Day/Overnight Camp Dates
SESSION/DATES | DAY CAMP | OVERNIGHT CAMP
01/ May 29 – June 02* | SOLD OUT | SOLD OUT
14/ August 28 – September 01* | OPEN | OPEN
15/ September 04 – 08* | OPEN | OPEN
*Sessions 1, 14 and 15 are scheduled as adult only 5 day camps (18 years and over)
Topics Covered Thru The Week
Paddling the Board
Catching Waves
Standing Up on the Board
Wave Selection
The Basics of Surfing
Proper Equipment selection
Turning Techniques
Surf Etiquette
Ocean Awareness
Surf Safety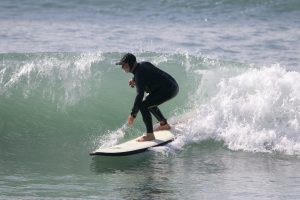 Already Surf and want to improve your skills? We offer surf coaching during our Adult Surf Camps. Many of our campers already have surf experience and are just looking to take it to the next level. Want to turn better? Generate more speed? Catch more waves?  Come surf with us this summer.
When Not Surfing Enjoy Other Activities…
Surf Shop Tour / San Clemente City Tour
Skateboarding
Ping Pong
Happy Hour
Surfboard Ding Repair Demonstrations
At the end of the day hang out and relax in our Low Tide Lounge
Enjoy Movies and music
Watch and review video tape of the days surfing sessions or watch a feature film
Or just relax, enjoy music and read on our couches and lounge chairs
Additional Information
Campers Traveling long distances (such as flying in) can arrive the Sunday Evening prior to the start of their camp date and they may depart either Friday afternoon or Saturday before 12 noon. The minimum stay at surf camp is 5 days and maximum stay is 15 weeks.
Multiple sessions may be attended by coming consecutive weeks. For students staying multiple session weekend stay is free. There will be minor activities and full supervision on the weekends for campers staying multiple weeks.
Also, Check out our Costa Rica Adult Camps :