Endless Summer Surf Camp Finished Up Another Great Season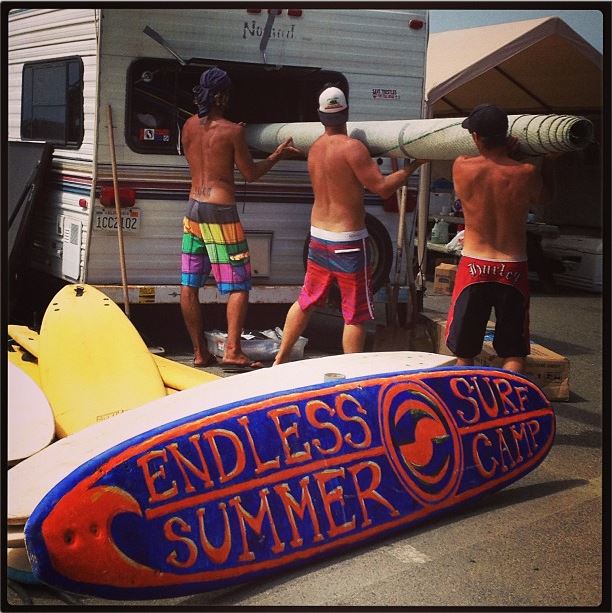 SAN CLEMETE, California – September 25, 2013 Endless Summer Surf Camp just finished their last camp of the 2013 summer season at San Onofre State Park Campground, in San Clemente, California.
Starting the first week of June and running through the second week of September, Endless Summer Surf Camp hosts a weekly 5 day overnight surf camp session that runs Monday through Friday. The overnight camp includes accommodations, all meals, drinks and snacks, 24 hour supervision, and all your surfing equipment as well as surf instruction.
Campers learn all the basics of surfing including paddling the board, catching waves, standing up on the board, wave selection, turning techniques and surf etiquette.
Endless Summer Surf Camp has something for people of all ages and all levels of surfing with classes geared towards beginners, intermediate and advance surfers. The camp also includes day camps, private surf lessons plus surf and turf specials where surfers spend the morning in the waves and an afternoon on the links.
"Each year gets better and better. This year was one of our most exciting years to date with over 500 campers attending our programs; it started with a bang in June and just kept on getting better throughout the summer. It was our best summer for weather and waves. We have so much fun with our returning friends and our first time campers." Jason Senn, Surf Camp Director
The Endless Summer Surf Camp offers a surf program to meet everyone's needs. Whether you have never surfed before and always dreamed of learning or if you just want to improve your existing skills, they have the coaching that will enable you to reach your goals.
"Endless Summer Surf Camp educates a new generation of surfers about the environment and its concerns. Jason has set the standard for all surf camps to follow." – Pat O'Connell, Surfrider Foundation Spokesman/Pro Surfer
Endless Summer Surf Camp can be reached at (949) 498.7862
About Endless Summer Surf Camp
Endless Summer Surf Camp is the premier surf camp in Southern California. The Camp was founded in 1992 by Surf Camp Director Jason Senn, a former top ranked professional surfer and member of the United States National Surf Team. The camp includes overnight camps, day camps, private surf lessons and progressive surf lessons. With weekly camps starting the first week of June and running through the second week of September surfers of all levels learn everything from the basics of surfing to advance surfing techniques. Endless Summer Surf Camp is endorsed by SIMA, Surfing America and The Surf Rider Foundation. For more information visit www.endlesssummersurfcamp.com or follow them on Facebook